The shuttles connect the external with the underground labs. The departure from external to underground labs is at the service area across the main entrance of the external buildings. The departure from the uderground to external labs is at the Guard box.

The shuttle takes about 15-20 minutes to reach the underground Labs.

Each shuttle can drive no more than 8 people per run. In case of need, in order to drive back all the personnel of the underground labs, the last evening run of the shuttle will be followed by additional runs.
SHUTTLE TIMETABLE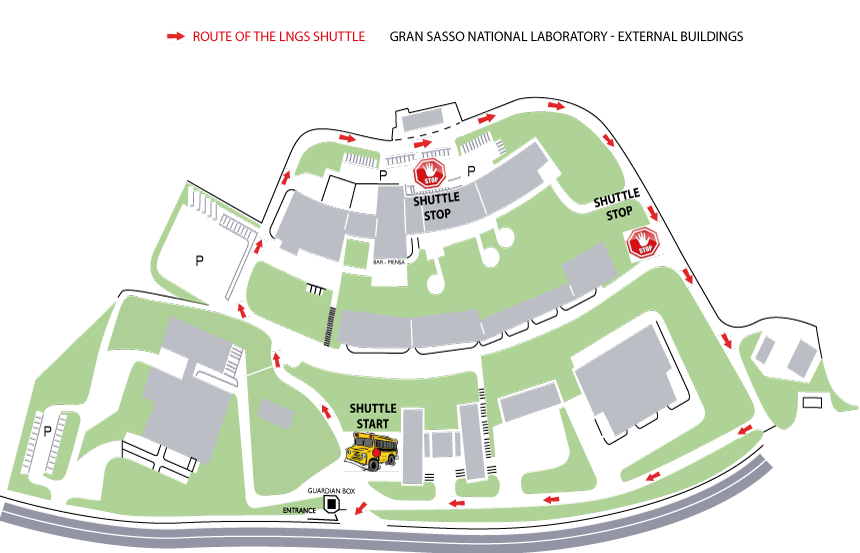 Shuttle timetable starting from 1 August, 2022

Monday - Friday:
Outside laboratories - Underground laboratories

8:00

8:20

8:40

9:00

9:20

9:40

10:00

10:20

10:40

11:00

11:20

11:40

12:00

12:20

12:40

13:00

13:20

13:40

14:00

14:20

14:40

15:00

15:20

15:40

16:00

16:20

16:40

17:00

17:20

17:40

18:00

18:20

18:40

19:00

Underground laboratories - Outside laboratories

8:20

8:40

9:00

9:20

9:40

10:00

10:20

10:40

11:00

11:20

11:40

12:00

12:20

12:40

13:00

13:20

13:40

14:00

14:20

14:40

15:00

15:20

15:40

16:00

16:20

16:40

17:00

17:20

17:40

18:00

18:20

18:40

19:00

19:20
Saturday and Sunday:
Outside laboratories - Underground laboratories

9:00

12:40

14:20

18:00

Underground laboratories - Outside laboratories

9:20

13:00

14:40

18:20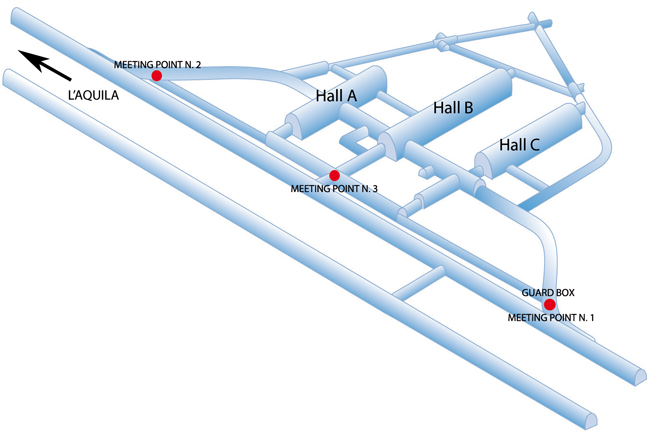 Assergi-Outside laboratories

AMA bus stop in Assergi

MON-FRY

SAT SUN

Via del Convento

8:15

8:45

Intersection SS 17 bis with Via dei Monti

8:18

8:47

Outside laboratories-Assergi

Departure

MON-FRY

SAT SUN

Guards' box - Outside Laboratories

18:15

18:30