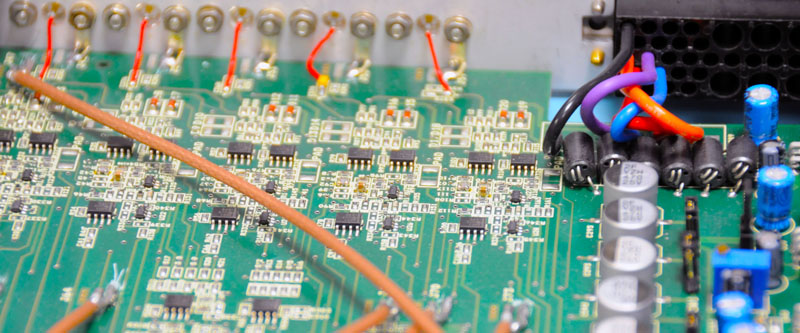 Activities and support provided by Electronic Service

The electronic service provides support to the experimental activities and to the other services of LNGS for the development and implementation of electronic devices.
The service is in charge of the following activities:
design and implementation of analog and digital electronic devices;

design and realization of programmable logic circuits;

development of detectors and related front-end electronics;

development of acquisition, monitoring and control systems;

development under LabView framework;

design and management of monitoring and calibration devices for detectors;

desing and development of amplifier under Cryogenic environment;

CAD support in the design and implementation of electronic circuits;

support to the design, building and data taking of the experiments;

maintenance of experimental devices.
The available instrumentation allows:
accurate Jitter measurement (3,5 GHz, 40 GS/s)

accurate low noise analog measurement (2GHz, 10 GS/s)

accurate noise figure measurement (10 Hz -> 7GHz)

accurate measurement of the bandwidth, of the input/output impedance of amplifiers (9 KHz -> 8,5 GHz).
Staff
This email address is being protected from spambots. You need JavaScript enabled to view it.

(head of service)
This email address is being protected from spambots. You need JavaScript enabled to view it.
This email address is being protected from spambots. You need JavaScript enabled to view it.
This email address is being protected from spambots. You need JavaScript enabled to view it.