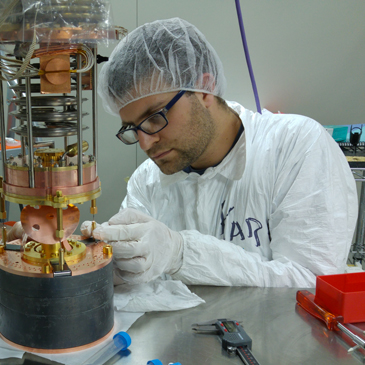 Assegnato a Lorenzo Pagnanini il premio Bruno Rossi per una delle due migliori tesi di dottorato in fisica delle astroparticelle incentrata sull'esperimento CUPID-0 situato presso i Laboratori Nazionali del Gran Sasso dell'INFN.
Il 9 aprile 2019, a Siena, la Commissione Scientifica Nazionale II dell'INFN (Astroparticle and Neutrino Physics) ha assegnato il riconoscimento a Lorenzo Pagnanini dottoratosi presso il Gran Sasso Science Institute con la tesi dal titolo "Advanced search for neutrinoless double beta decay in selenium-82 with CUPID-0.
"Mi ha fatto molto piacere ricevere questo premio, perché è un riconoscimento del lavoro fatto da tutta la collaborazione. Una collaborazione che dal nulla, in pochi anni, ha realizzato un esperimento sta producendo risultati importanti. - commenta Lorenzo Pagnanini - CUPID-0 e CUORE insieme rappresentano le fondamenta della prossima generazione di esperimenti bolometrici di doppio-beta."
Concluso il suo percorso di studi al GSSI, Lorenzo ha ottenuto un contratto di ricerca post-doc presso l'Università di Milano Bicocca.
Il riconoscimento assegnato dalla Commissione Scientifica Nazionale II dell'INFN rende omaggio a Bruno Rossi, scienziato che ha dato contributi fondamentali alla fisica delle particelle elementari mediante lo studio dei raggi cosmici, tra i primi a scoprire sorgenti di raggi X al di fuori del Sistema Solare e che ha identificato il decadimento del muone e ne ha misurato la vita media.
CUPID-0
CUPID-0 è il primo prototipo che, in vista del futuro CUPID, sta testando calorimetri scintillanti basati su cristalli di seleniuro di zinco. Si tratta del primo esperimento per la ricerca del doppio decadimento beta, realizzato con bolometri arricchiti isotopicamente e scintillanti, in grado di raggiungere una sensibilità comparabile a quella degli attuali esperimenti. L'esperimento consente di misurare sia il calore sia la luce all'interno del cristallo. Combinando le due misure si riesce a identificare e distinguere i decadimenti alfa dai decadimenti beta con altissima precisione. Costruito tra il 2015 ed il 2016 ai Laboratori Nazionali del Gran Sasso, CUPID-0 ha iniziato a raccogliere dati nel marzo 2017.
REIS - 10.04.2019