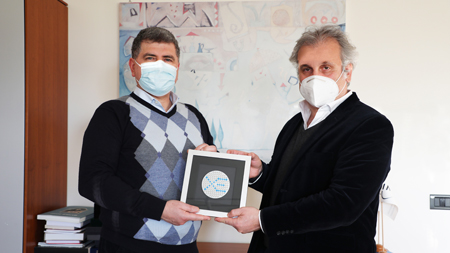 The XENON collaboration delivered a recognition to the director of the Gran Sasso National Laboratory Ezio Previtali, on behalf of all LNGS staff, as appreciation for the fundamental support given to the experiment in this year characterized by the pandemic.
"I am proud and happy of this recognition", says Ezio Previtali, director of LNGS, "It proves the great effort of all the staff despite the rough period we have been experiencing in the last year. Thanks to the professionalism and commitment of all the LNGS staff showed during 2020, it was possible to complete the upgrade of the XENON experiment. "
The start of the pandemic in March 2020 caught the experiment amid critical ongoing operations because of the installation of the XENON Time Projection Chamber (TPC), the core of the experiment dedicated to the search for dark matter. During the summer, other key systems were installed, such as the Radon distillation column and the neutron veto, for the reduction of the main sources of background.
"Never before I do have the feeling I made my best choice in choosing LNGS over other underground laboratories all over the world to carry out the Xenon program," says Elena Aprile, professor at Columbia University (USA) and international manager of the experiment. "Thanks to the support, cooperation and flexibility of all the LNGS staff as well as the ability of both the Directors, Ragazzi and Previtali, to manage resources and unavoidable fears, the collaboration was able to achieve the set goals."
These efforts led the experiment to complete the assembly and commissioning of the new detector at the end of 2020 and to start the data taking for the first operational checks.
"I am doubly satisfied, as XENON technical coordinator, for the goals achieved in a period of extreme difficulty, and as a LNGS researcher for the words of appreciation and gratitude of the spokesperson Elena Aprile," comments Marcello Messina.
"The gratitude for the high level of professionalism of an Italian laboratory by our international collaboration, with reference to all the people who make it possible to operate the essential services for a complex experiment like XENON, makes me particularly proud."
REIS - 02.03.2021