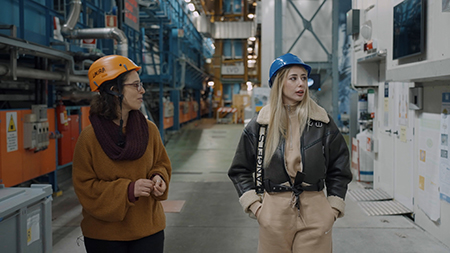 Da oggi, giovedì 13 luglio, è disponibile gratuitamente su CHILI il dodicesimo e ultimo episodio di "Alè Europe", la nuova serie prodotta da Red Carpet, società del Gruppo Iervolino & Lady Bacardi Entertainment, in cui protagonisti sono i Laboratori Nazionali del Gran Sasso dell'INFN e Gaia Sabbatini, plurititolata campionessa mezzofondista di origini teramane.
Durante la puntata si alterneranno i racconti di Gaia Sabbatini, Laura Marini, ricercatrice LNGS-INFN e Luca Pattavina, ricercatore LNGS-INFN e Università Tecnica di Monaco. Le loro voci ci accompagneranno in un viaggio da Campo Imperatore ai laboratori sotterranei, in cui i tre protagonisti racconteranno le loro storie e i loro gli obiettivi, evidenziando come i sacrifici, la tenacia e la forza di volontà siano elementi presenti sia nella vita di un campione che di un ricercatore.
"Alè Europe" è un format originale e inedito, che racconta attraverso i campioni dello sport 12 progetti di successo resi possibili dalle iniziative dell'Unione Europea. Nello specifico, nell'ultima puntata l'accento è posto sui Laboratori Nazionali Del Gran Sasso – INFN e sulle attività di ricerca che si svolgono, finanziate con fondi europei: Luca Pattavina, vincitore del finanziamento europeo "Consolidator Grant" dell'ERC European Research Council, racconterà il suo progetto RES-NOVA sullo studio delle sorgenti dei neutrini astrofisici attraverso l'utilizzo del piombo archeologico.
"Alè Europe" è un progetto vincitore per la prima volta in assoluto del bando europeo "Call for proposals - Support for information measures relating to the EU Cohesion policy".
Foto: ©Luca Fantini ©Giulio Calarco ©AlèEurope
---
Per info e contatti:
Laboratori Nazionali del Gran Sasso - Relazioni Esterne
This email address is being protected from spambots. You need JavaScript enabled to view it.
REIS - 13.07.2023