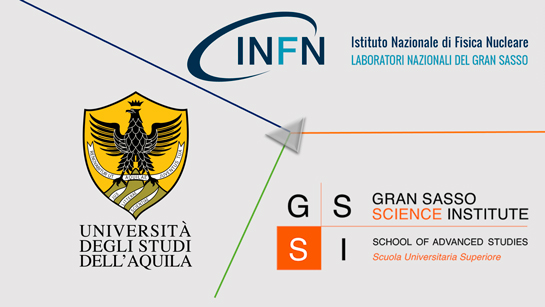 Martedì 23 maggio, presso l'Aula Magna dell'edificio Alan Turing del Polo universitario di Coppito dell'Università degli Studi dell'Aquila, si è tenuta la cerimonia di premiazione del concorso "Colora la Materia Oscura", dedicato alle scuole secondarie di I grado dell'aquilano coinvolte nell'ideazione del logo dell'IDM-2024 - Identification of Dark Matter, conferenza internazionale sulla Fisica della Materia Oscura, che si terrà per la prima volta a L'Aquila nel 2024.
Vincitrice del concorso è Greta Mariani, studentessa della classe 1°E della scuola media G. Carducci, che ha realizzato il logo sarà utilizzato come simbolo ufficiale dell'IDM-2024.
Dopo gli interventi dei ricercatori organizzatori del concorso, l'evento è proseguito con una lezione-gioco a tema scientifico "Astro-bufale. Tutto ciò che sappiamo (ma che non dovremmo sapere) sullo spazio", tenuta da Luca Perri, divulgatore scientifico e astrofisico dell'Osservatorio di Merate e del Planetario di Milano, che grazie alla sua professionalità è riuscito a coinvolgere i 250 studenti finalisti presenti in aula.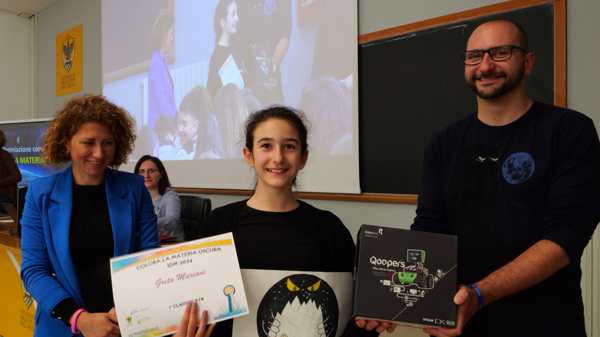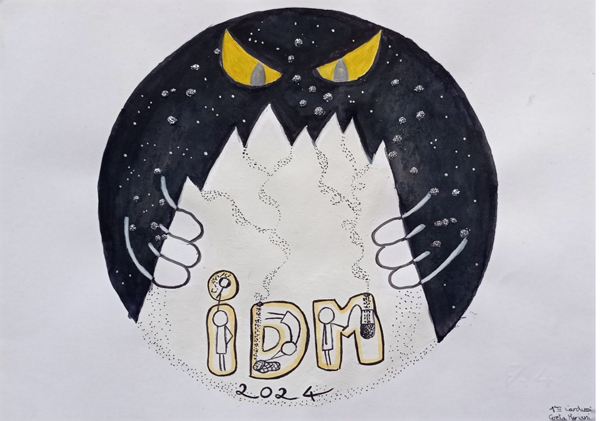 Durante l'evento sono stati presentati anche i 20 elaborati che saranno esposti in una mostra semi-permanente nei luoghi dove si terrà la conferenza.
Il concorso "Colora la Materia Oscura" ha visto l'iscrizione di circa 400 studenti, proveniente dai sei Istituti Secondari di I grado del comune dell'Aquila ("Giosuè Carducci", "Dante Alighieri", "Giuseppe Mazzini", "Teofilo Patini", "Paganica" e "Gianni Rodari"), ai quali è stato chiesto di realizzare il logo della conferenza.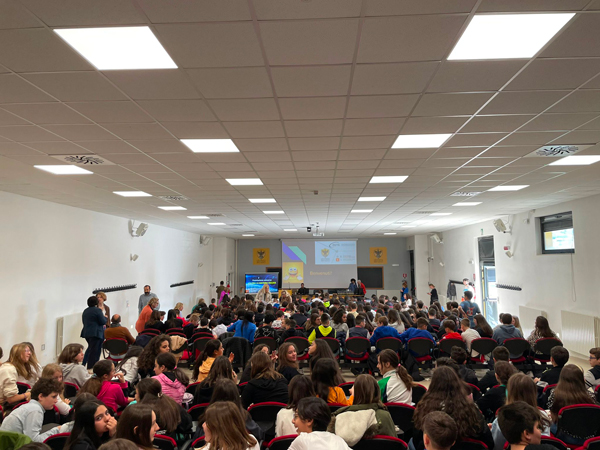 L'evento è stato anche seguito in video-conferenza dagli studenti che non sono potuti intervenire in presenza. La registrazione dell'evento è reperibile sul canale YouTube dell'Università degli Studi dell'Aquila, mentre la lista dei 20 migliori elaborati può essere consultata sulla pagina dell'evento.
IDM-2024 - Identification of Dark Matter, sarà ospitata nel 2024 per la prima volta a L'Aquila grazie alla virtuosa collaborazione tra i tre istituti organizzatori: i Laboratori Nazionali del Gran Sasso dell'INFN, dove vengono condotti alcuni dei più importanti progetti di ricerca al mondo nel campo della Materia Oscura, il Gran Sasso Science Institute e l'Università degli Studi dell'Aquila, che vedono molti dei loro scienziati impegnati in queste ricerche di primo piano a livello internazionale. La conferenza che si terrà all'Aquila sarà la quindicesima della serie IDM. In questa occasione la città ospiterà oltre 200 ricercatori provenienti dalle più prestigiose istituzioni scientifiche di ogni parte del mondo.
---
Laboratori Nazionali del Gran Sasso - Relazioni Esterne
This email address is being protected from spambots. You need JavaScript enabled to view it.
REIS - 24.05.2023