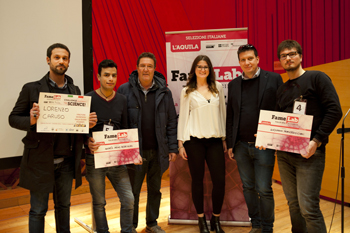 A "lively" morning dedicated to a different way to communicate science: today March 15th, at the Auditorium dl Parco, took place the local selection of FameLab - L'Aquila, an international competition addressed to young researchers and university students naturally gifted for communication.
The jury, composed by the reporter Umberto Braccili, the researchers Paolo Gorla (LNGS) and Benedetta Mancini (Dompé), proclaimed the first three winners: the first place goes to Giovanni Francesco Ciani, PHD in physics at Gran Sasso Science Institute, for his ability in dealing with scientific matters both clearly and ironically.
The second place to Andrés Arias Rodriguez, PHD in mathematics at Gran Sasso Science Institute, for his way to stir the audience, even through body language.
The third place goes to Davide Sparacino, from the University of Teramo.

The competition is organized by Gran Sasso National Laboratory-INFN in collaboration with GSSI (Gran Sasso Science Institute), INAF (National Institute for Astrophysics) of Monte Porzio, AIF andAssociazione Scienza Gran Sasso and the support of Comune di L'Aquila.

In addition to representatives of the Institutions involved in the organization of the event, there was a delegation of L'Aquila high schools students which proclaimed the "winner for the schools": Lorenzo Caruso a veterinary, specialized in Inspection of Animal Source Foods at the University of Teramo.
The first two winners of the local selection of L'Aquila will join the other 20 finalists in the FameLab Masterclass of Perugia; then they will "face" in the National Finale Event of the competition scheduled for May in Rome.
VIDEOS OF THE PARTICIPANTS WILL BE SOON AVAILABLE ON YOUTUBE

https://twitter.com/FameLabItalia